I'm a Lindy Hop dancer and thankfully that has exposed me to the very niche genre of Traditional Jazz, Trad for short. It can also be referred to as Hot Jazz, Dixieland Jazz or NOLA / New Orleans Jazz, although the latter is usually a slightly different sound. Trad Jazz appears to be the most agreed upon term though. I'd also like to say, I'm not an expert, just some guy that loves listening and dancing to some of the best musicians in the world.
History
Trad Jazz is the original Jazz that was first played in the early 1900's, some songs even going back to the 1890's such as Maple Leaf Rag which was recorded in 1899! These early songs became Jazz Standards which are quite universally known by Jazz musicians today. For example here is Maple Leaf Rag being played by the wonderful Tuba Skinny a couple of years ago.
Part of the iconic roaring 20's sound was the American Jazz, made popular by artists such as Bix Beiderbecke and King Oliver.
As the popularity of Jazz grew in the 30's, it strayed further from it's roots in New Orleans, and started to grow into bigger bands that could fill much larger venues. This was the start of the Big Band sound, however musicians like Sidney Bechet still kept the Trad sound with wild solo's and improvisations.
As we enter the 40's the popular music of the time had transitioned into full a Big Band sound, with the likes of Glenn Miller and Benny Goodman. This to me is where Trad Jazz became sidelined to the big bands of the time.
Today, there is a resurgence of Trad Jazz bands, a lot of them cater specifically to the dancing community, and very few get any recognition outside of it. The upside to that is if you go to see a band there is a good chance you can have a beer with them afterwards!
Recommendations
If you want the best of modern recordings and New Orleans style, about as traditional as you can get, Tuba Skinny is the place to go. They have an extensive catalogue, and are to me, one of the best bands currently performing. This clip has some mad washboard solo's, which isn't everyone's cup of tea, but it has grown on me!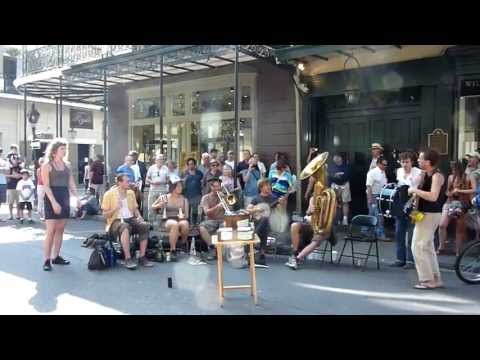 The video that got me into this style of music was a battle of the bands between the Stockholm Swing All Stars and The Gordon Webster Band at Snowball.
My favourite clip is of Gentlemen and Gangsters, jamming with Shirt Tail Stompers, at a Lindy Exchange in Copenhagen. It happens to be my favourite song, and the solos are just so perfect. It is amazing to see them improvising so naturally.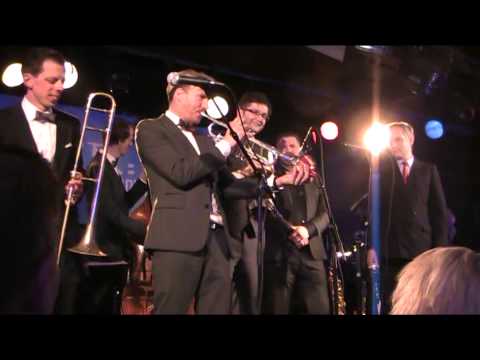 Listening Resources
For original recordings from the era, the best place to look is Jazz On Line. It has a huge database of music that has been taken from 78's and uploaded to the site. Thankfully the music is (mostly) in the public domain now so it is free to access and use. However the site is rather old and unfriendly to use, so it make take some patience!
Modern bands tend to have their music on bandcamp, which is a great way to get DRM free music and directly support the bands that you love. The bands that aren't on it tend to have their music for sale physically via their website or CD reselling sites.
If you are interested in seeing a band live (I highly recommend it!) you should see if there is a Lindy Hop or Swing Dance event near you (There probably is), as a good event will have drawn out some quality musicians.
Musicians
This is a list of the bands that I listen to most, I've tried to link directly to their music, but often it is quite difficult so where I wasn't able to, I've linked to YouTube.
I hope this has been useful to you if you are exploring the world of Trad, or even better it has been eye opening to a whole world of new music to investigate!
Drop a comment on the reddit thread if you have questions!
:wq